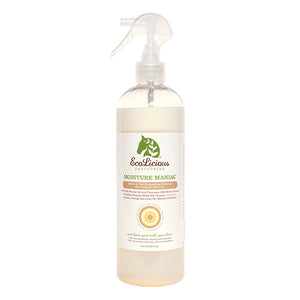 Moisture Maniac Mane & Tail Detangling Infusion- Ecolicious 🐴
If a spray-on detangler is part of your regular grooming routine, you've got to try our EcoLicious Moisture Maniac Detangling Infusion.
It's packed with 100% natural and organic ingredients that condition and detangle your horse's mane and tail without drying it out with suffocating silicones.
Panthenol & Silk Powder derived from pure Silk Worm Cocoon help restore natural luminosity, retain moisture and nourish your horse's mane and tail
Certified Organic Hemp Oil and Banana Extract soften and smooth while protecting fragile hair from breakage. The conditioning properties of Silk Powder, Sunflower Extract and Panthenol boost the coat colour.
The combo of Tea Tree Essential Oil, known for promoting healthy skin, and
Sweet Orange Essential Oil, with it's delightful and cheerful scent, keep it smelling like summer holidays and fun in the sun anytime of the year.
And like all our products, it is made with human grade ingredients, because we only believe in the best for you and your horse.