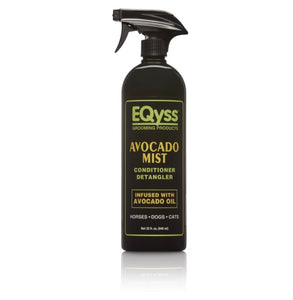 EQyss Avocado Detangler
Excellent for the mane and tail. A botanical, leave-in, conditioning spray that maintains water balance in the hair shaft, preventing the coat from becoming dry and damaged.

Shines and conditions with a unique formula that combines the benefits of panthenol, avocado oil and aloe vera. Detangles without weighing down the hair. Replenishes the natural oils lost during shampooing. Can be used on wet or dry hair. Also suitable for the entire coat.

Antistatic, silicone and alcohol free. Safe for all horses, ponies, pregnant mares and foals. Refreshing scent.

Can also be used safely on your pets.

32 oz.