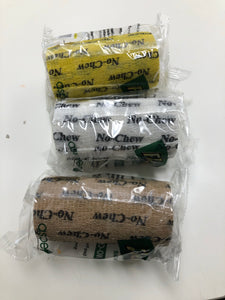 4 inches NO CHEW FlexWrap Bandages
An economical self-adhesive bandage that offers excellent porosity in a lightweight, comfortable bandage. Has controlled compression so that it does not tighten. Provides superior protection and grip, while being easy to remove. Sweat and water resistant with non-slip backing.

The No Chew technology repels the animal to chew the bandage. Ideal for small animals such as dogs, cats, rabbits, goats and sheep and chickens.